March 21, 2023
2022 Transactions Funded by BDC Capital
BDC Capital had a very successful year in 2022. Listed below are some of the transactions we funded including ABL, term debt, mezzanine capital, Mass. Recycling Loan Fund, and CDFI loans. We expect that in 2023, our 70th year in business, we will have even more opportunities to help bankers get deals done and to help New England businesses grow. We are open for business!!!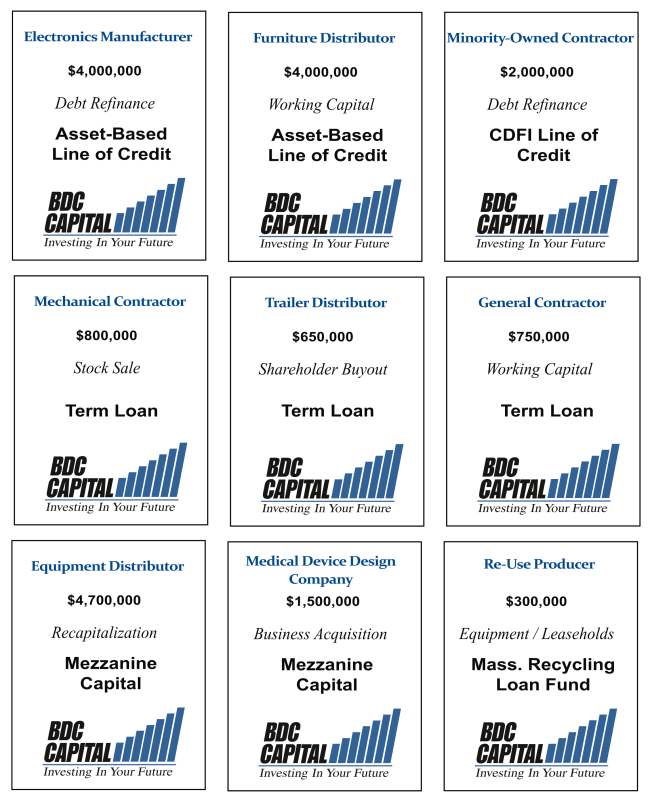 About BDC Capital:
The oldest business development corporation in the United States, BDC Capital has been recognized locally and nationally as a leader and innovator in business lending and capital investment. Many of New England's leading financial institutions invest in BDC to help promising companies expand. For almost 70 years, we have invested more than $2 billion in thousands of companies in New England.
Whether the need is $50,000 or $10 million, BDC Capital provides a wide range of financing solutions. We offer asset-based lines of credit, senior debt, junior secured debt, mezzanine investments, SBA 504 loans, and private equity options, all of which are customized to suit the needs of a business.
For more information, visit our website, call us at 781-928-1100, or contact: 
Carol C. Brennan – Business Development
Email: cbrennan@bdcnewengland.com
Cell: 413-237-6648
Carol Fleit – Term Loans
Email: cfleit@bdcnewengland.com
Cell: 617-413-4523
Karim Hill – CDFI Loans
Email: khill@bdcnewengland.com
Cell: 925-683-7751
Stan Horsman – ABL
Email: shorsman@bdcnewengland.com
Work: 781-928-1125
Tom Wooters – Mezzanine
Email: twooters@bdcnewengland.com
Work: 781-928-1103