DEBT-FREE WORKING CAPITAL SOLUTIONS FOR BUSINESS GROWTH
In partnership with LSQ, we'd like to share with you a debt-free way to grow your business. Whether a start-up or an established business, LSQ can turn open invoices into cash to help your business thrive through invoice financing.
LSQ HAS FUNDED OVER $24 BILLION IN RECEIVABLES TO BUSINESSES ACROSS THE U.S.
LSQ is committed to improving the financial certainty of all types and sizes of businesses, delivering uncomplicated and secure options for B2B companies to manage their cash flow. With integrated back-office services, innovative accounts receivable technology, and a robust bank partner network, LSQ is uniquely qualified to help businesses quickly access cash without taking on debt.
PRODUCTS & TECHNOLOGY
Every month LSQ funds over 100,000 invoices so businesses can buy inventory, cover payroll, and grow. It's the fastest and easiest way to forecast cash flow and increase peace of mind.
Provides business owners with immediate access to cash flow in return for selling their invoice to LSQ. With advance rates of up to 90%, credit facilities up to $50 million, and no hidden fees, LSQ's receivables financing serves as the funding choice for thousands of business owners nationwide.
Dashboard is LSQ's powerful, proprietary cash flow management tool. The platform changes the way business owners view and manage their receivables by simplifying workflows, improving decision making, and securely accessing working capital – anytime, anywhere, and from any device.
FUNDING FOR MOST B2B & B2G BUSINESSES:
Because LSQ lends based on assets tied up in receivables, it is not limited by traditionally difficult-to-fund business classifications such as:
Rapid Growth
Startups to Mature Companies
Government Contracting
High Customer Concentrations
Low Credit Scores
Weak Financials
ELIGIBILITY:
B2B or B2G in the US
Have A/R on any net terms
Outside of the construction and insurance industries
---
Experience for yourself what thousands of clients and partners already know—LSQ is not your average business funding company.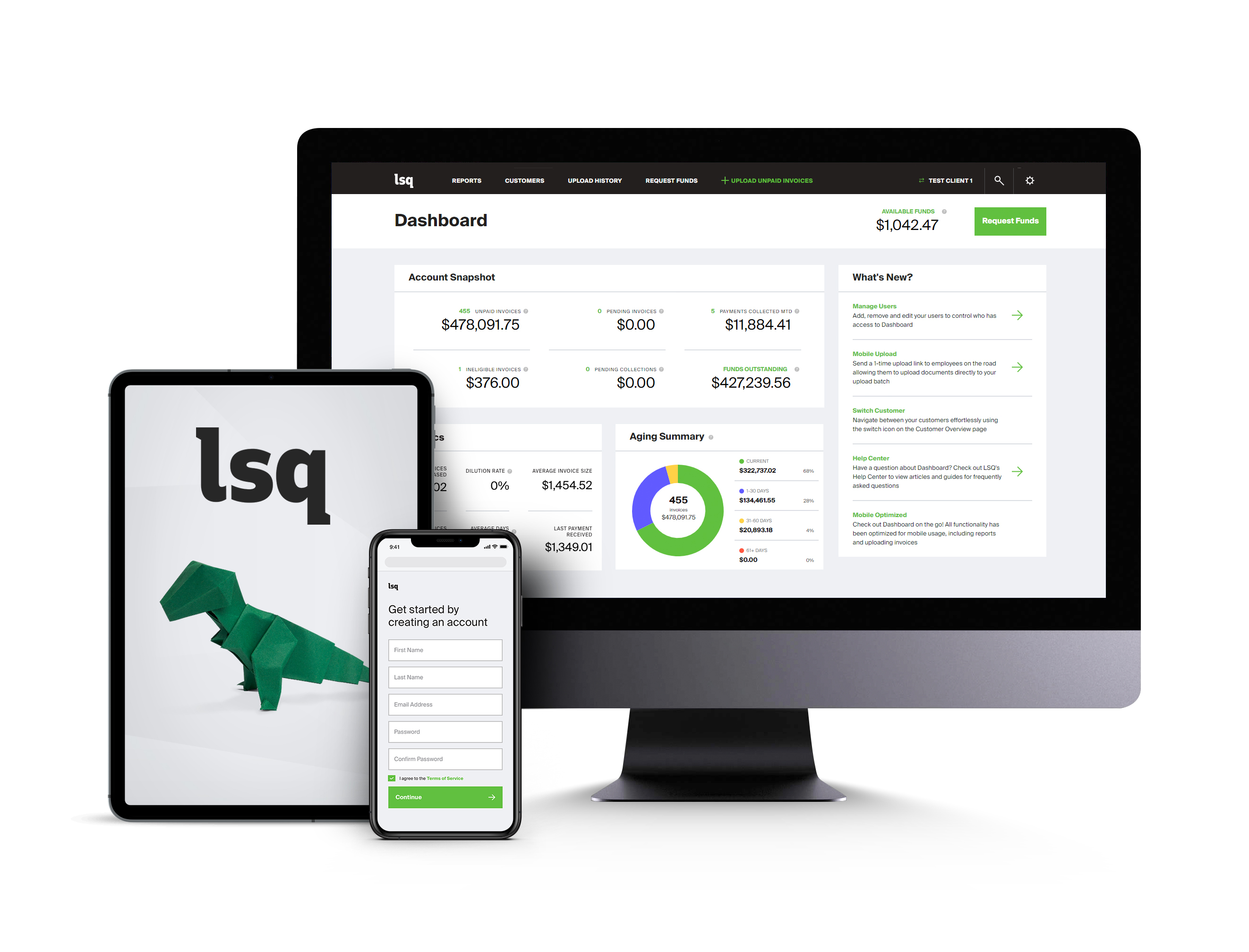 LSQ
Invoice Financing