January 9, 2023
BDC Capital Turns 70 in 2023!
BDC Capital is proud to mark its 70th anniversary in 2023. Established in May 1953 in Boston, Massachusetts by a group of bankers and industry leaders, we continue the mission of working with lenders and other advisors to help their customers and prospects succeed by providing innovative financing solutions.
Since that time, BDC Capital has had tremendous growth and has provided more than $2 billion of financing to thousands of companies in New England.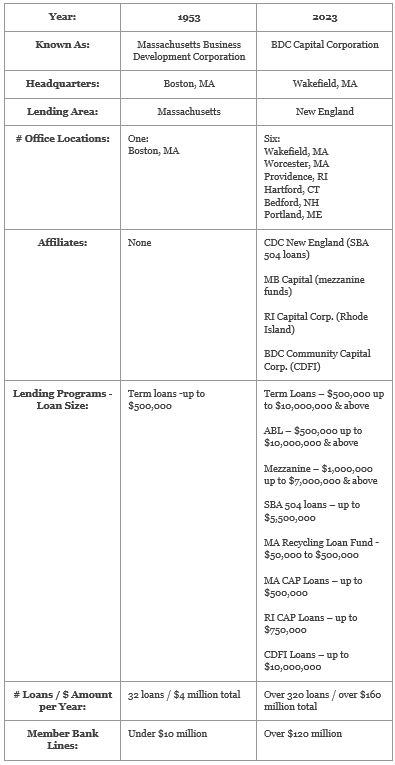 All of us at BDC Capital are excited to take on the financial industry's newest challenges in the coming year and beyond with the same spirit of innovation and flexibility for which BDC Capital has always been known.
Happy New Year and Best Wishes for a Successful and Prosperous 2023!
Ken Smith

Paul Flynn, Jr.

Lauren Angat

Tom Barry

Carol Brennan

Matt Brothers

Scott Brunini

Bridget Carney

Thuy Dang

Carol Fleit

Susan Forrester

Nancy Gibeau

John Hackett

Caitlin Martell Hamor

Dave Harrington

Jarrad Herzog

Karim Hill

Stan Horsman

Kathy Jauron

Ryan Johnson

Colleen Lavoie

Shauna Mancinelli

Bobbie McGuire

Stacy Nugent

Joe O'Garro

Michelle Peters

Dave Raccio

Rosemary Rosano

Olivia Salvador

Mike Topalian

Miriam Wood

Tom Wooters