July 25, 2023
Recent Deals Funded by BDC Capital
BDC Capital recently funded these ABL and mezzanine capital deals, each in partnership with a bank. Please keep us in mind to fill the "gap" with a financing solution for your customer or prospect during this dynamic credit environment.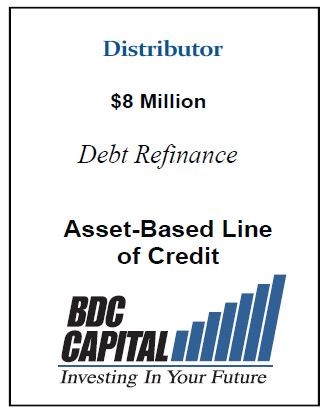 Situation:
A consumer packaged-goods distributor needed working capital to support a geographic expansion and increasing sales.
The company experienced annual losses due to the capital investment in two new warehouses but interim results showed a return to profitability.
Its long-time banker reached out to BDC Capital to find a solution to raise the existing $3 million conventional line of credit to $8 million while mitigating bank risk.
Solution:
BDC Capital provided an $8 million fully-followed asset-based line of credit against accounts receivable and inventory with daily monitoring and field audits.
The bank participated by increasing its commitment from $3 to $4 million with BDC Capital committing to $4 million.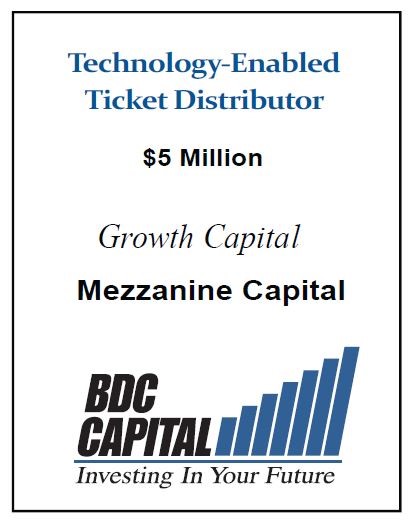 Situation:
A company engaged in on-line ticket distribution was experiencing a strong rebound as it emerged from the pandemic.
The company needed to refinance a federal government Main Street loan plus other debt and required additional working capital.
Solution:
BDC introduced the company to a bank that was comfortable with the industry who provided a $20 million Line of Credit
BDC Capital provided a $5 million non-dilutive mezzanine investment in a subordinated position to the bank to provide the working capital necessary to support continued growth.
About BDC Capital:
The oldest business development corporation in the United States, BDC Capital has been recognized locally and nationally as a leader and innovator in business lending and capital investment. Many of New England's leading financial institutions invest in BDC to help promising companies expand. For 70 years, we have invested more than $2 billion in thousands of companies in New England.
Whether the need is $50,000 or $10 million, BDC Capital provides a wide range of financing solutions. We offer asset-based lines of credit, senior debt, junior secured debt, mezzanine investments, SBA 504 loans, and private equity options, all of which are customized to suit the needs of a business.
For more information, visit our website, call us at 781-928-1100, or contact: 
Carol C. Brennan – Business Development
Email: cbrennan@bdcnewengland.com
Cell: 413-237-6648
Jarrad Herzog – ABL
Email: jherzog@bdcnewengland.com
Cell: 413-822-2180
David Mcilroy – Business Development
Email: dmcilroy@bdcnewengland.com
Cell: 203-545-9062
Stan Horsman – ABL
Email: shorsman@bdcnewengland.com
Work: 781-928-1125
Tom Wooters – Mezzanine
Email: twooters@bdcnewengland.com
Work: 781-928-1103